Welcome to the Trauma Transformed landing page for our 2020-2021 ACEs Aware activities. In May of 2020, Trauma Transformed and our partners, ETR and RYSE Center, were awarded grants for the following activities: Provider Engagement Course Event (Critical Foundations: Trauma-informed Responses to Bias in ACEs Prevention and Screening) and Provider Engagement Peer to Peer Sessions (Bay Area and Sacramento Racing ACEs Series).
Please visit this page to find updates on our ACEs Aware activities and partnerships.
What is ACEs Aware?
California Surgeon General Dr. Nadine Burke Harris, in partnership with the California Department of Health Care Services (DHCS), has developed a first-in-the-nation statewide effort to screen for childhood trauma and treat the impacts of toxic stress. The bold goal of this initiative is to reduce Adverse Childhood Experiences (ACEs) and toxic stress by half in one generation and to launch a national movement to ensure everyone is ACEs Aware. Learn more. (PDF)
Trauma Transformed ACEs Aware Provider Course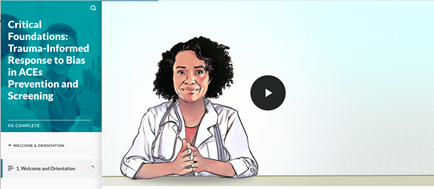 Critical Foundations: Trauma -informed Responses to Bias in ACE prevention and screening is now live!
This course was created by Trauma Transformed and ETR and is intended for providers, pediatricians, family physicians, nurses, social workers and providers in California who are part of the larger ACEs Aware initiative
ACEs happen in a context; so does our work to prevent and screen. This course is designed to contextualize, sometimes complicate the narratives around transforming the impact of childhood adversities as well as the adversities in our healthcare systems. By understanding these contexts, we are better equipped to disrupt cycles and systems of harm as we realize the ACEs Aware vision to reduce ACEs and toxic stress by half in one generation (ACEs Aware fact sheet).
Course objectives:
After completing this 2-hour asynchronous course, participants will be better able to:
Explain the effects of stress arousal, trauma, racial trauma on our brains and bodies
Identify self-and co-regulation strategies and tools to apply in practice settings
Define bias, medical racism and the relationship between stress arousal and bias in our decision-making
Discuss trauma-informed strategies to mitigate bias in ACE prevention, screening, and treatment of toxic stress
Describe the role of social determinant of health and race-based stress in ACE science and practice

Faculty includes: Dr. Dana Crawford, Jen Leland, and Francesca Osuna
This course meets requirements for CME, CNE Continuing Nursing Education, and CEU Social Work upon completion of course and evaluation through Postgraduate Institute for Medicine.
Convenings
Thank you to all who participated in the Fall 2021 Bay Area and Sacramento Racing ACEs Network series. Please check here in November as we post learnings, resources, and graphic recordings from these moving and transformative sessions.
Regional Partnerships
Check back here for updates on ACEs Aware activities with our partner regions.